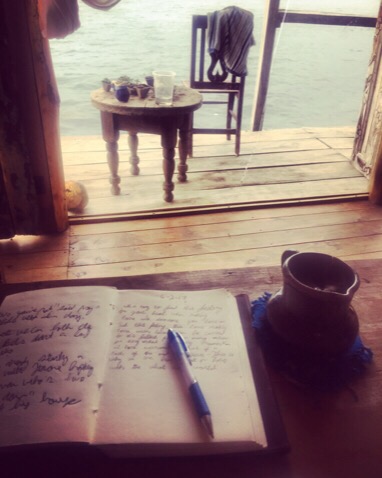 Even when I was trying hard to be successful at blogging, I was never been financially successful are blogging. Every two years or so, Google AdSense would send me a check for $100 and I would head straight to the candy store.
Now that I'm not trying to have a financially successful, it is more likely than ever that I won't have one.
For one, to have a successful blog you're supposed to blog. You can't just think about the things that you would write, and ultimately not write them.
But I've been enjoying thinking about blogging quite a bit. Sometimes I think, "that's be a good topic to blog on." And I think about it, look at the lake, take a wistful breath and move on my day.
Thinking About Blogging is Easier than Actually Blogging
I find it takes far less time than actually writing about the things you think about writing about. It's also easier on my neck, and that's what this year has been about — getting off devices as much as possible, staying in good posture and in a clear frame of mind.
I started turning off all electronic devices on the weekend. Which means I can't blog on the weekends.
And since I don't blog during the week days either, the only way I would start seriously blogging again is if they finally added another day to the week—call it Whosday (who's day is this? It's your day. You're welcome!).
It's absolutely ridiculous and utterly insane that our governments never shake things up and throw us an extra day of the week. Both time, and the calendar, are merely social conventions, and I am outraged that we do not convene to take full advantage of this.
We should really just operate on two days working three days not working schedule. For those that have to work that is. As much as possible, people should be able to do what they want, set their own hours, and make a living.
Let's Just Act Natural and Make a Living
Too many people I talk to in The Northlands are working jobs they dislike with a mean boss and are still going into debt.
That's ultimately why I used to strive for making me blog financially viable—to make a living off being me.
I have a compulsion to write and a belief system that we should all be able to just do what comes naturally and make a living.
Even when I was struggling financially, I was never really been struggling. The third world was always there to embrace me and my $600 monthly earnings with $120/month rent, $1 meals, $0.50 meals, $2 haircuts, and $12/hr mariachi band rentals.
There was always a place I could call and crash. I knew with every risk I was taking "making it" that if I ended up down and out and destitute I could always credit card a plane ticket "home" and have a bed and food and roof. What a lovely set of circumstances to be grateful for.
But He Digresses
But I digress (as I'm wont to do). The fact of the matter is, the title of this post is a farce. I always did have a successful blog because I was having fun doing it.
If You Had Fun You Won
My kindergarten teacher, Mrs. Puttree taught me the most valuable and enduring lesson of all my years of school. She said, "If you had fun you won."
I put that lesson deep in my heart and I never lost again. But I had a lot of fun. Had to. Didn't want to lose.
So if you're reading this thanks for being on the other end of this fun, and thank you Universe for ultimately leading me to a life where I can food and rent from doing what I love. There's no failure if you keep at it. When you feel like your struggling or fighting to "make it", pull over to the side of life's highway and try to figure out how to shift to a higher gear.